Buyer Resources
A Step-By-Step Guide to the Home Buying Process
You have your eye on the perfect place in Adams Morgan, Columbia Heights, or another one of DC's best neighborhoods. You know exactly how long your commute will take, you know exactly how you want to arrange your furniture, and you know exactly how many friends you can fit in your living room. But how do you get from the research stage to closing? There are three basic elements in the home buying process.
3 Parts to the Home Buying Process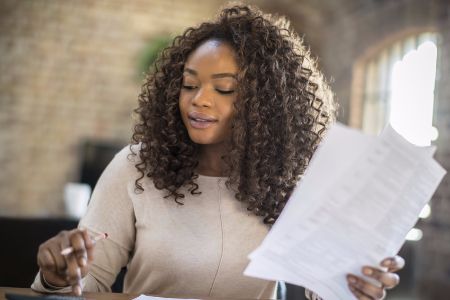 Before the Search
During the Search
After the Search
The buying process is made up of many intricate steps, but we've broken it down to make your home search much easier. Here is a quick overview of the detailed steps involved. If you have questions about buying a home or want to get started, call us at (202) 256-0639.
---
Step 1: Get Your Pre-Approval Letter
If you already know how much you can afford for a home, great! (If not, look at your budget to figure out how much you can pay every month for your mortgage. Use our mortgage calculator to factor in taxes, insurance, and interest.)
After you have checked your finances, it's time to meet with a local lender. It's best to start the mortgage loan application process and get pre-approved. That way, you'll know exactly how much your loan will be and you can secure financing quicker.
---
Step 2: Get to Know the Market
You may already be familiar with your favorite DC neighborhoods, but you may not be as familiar with the real estate market. The supply and demand of homes in popular communities has a significant effect on the price of a home. If you'd like an inside look at recent sales and information about current real estate trends, ask for our DC Neighborhood Sold Report.
---
Step 3: Choose Your Agent
Your home is an investment, so you'll need an expert to help you choose the right property and understand future market trends. Our real estate professionals specialize in DC's popular neighborhoods. We'll help you not only find the best home but provide all the resources and advice you need along the way.
---

Step 4: Schedule Showings
This is the fun part! When you see listings that you like, call your real estate agent to view the property in person. While you're there, make sure to take detailed notes about what features you like (and didn't like), take pictures of the property, and test the lights and faucets to see that they work properly. 
---
Step 5: Make an Offer on a Property
Once you've determined which home or condo best fits your criteria, talk with your agent about making an offer. Your real estate agent can negotiate on your behalf to request a lower yet fair price. If the seller accepts your offer, it's time to get ready for closing.
---
Step 6: Order a Home Inspection
It's crucial to have a professional take a look at the home or condo you're about to purchase. A licensed inspector will be able to spot any issues with the plumbing, electrical wiring, HVAC, and other features of the property. You can always ask your real estate agent to negotiate credits for major repairs.
---
Step 7: Close on Your New Home
In the days leading up to closing, you will need to talk with several people about your upcoming home purchase. Contact your attorney (if you have one) to review the purchase contract with you, inform your landlord (if you are renting) that you are moving, make arrangements with a moving company, call your insurance provider about homeowners insurance, and talk regularly with your real estate agent about the next steps.
On closing day, you will need to pay closing costs (such as taxes) and bring all necessary documents (including insurance policies and a photo ID) with you. Your real estate agent will handle the minute details of your transaction so you can focus on these final steps. After that, you'll be ready to move to your new home!
---
Ready to Find Your New Home?
We know that buying a home, especially in the Washington, DC area, can be tough. We're here to guide you step by step through this intricate process and provide you with all the resources and personal service you need. If you're ready to begin the process, contact us and we can talk about your goals.